As I was saying in my last post … many of my worst travel experiences have been on the way to places and being caught in traffic.
I remember the first time I visited India years ago. I'd arrived at Bangalore's old airport at 1 AM in the morning. That late at night I had expected chilly or at least, cool night air. Not here. I stepped from the filtered interior of the plane into a steamy hot blanket of night. Instant funk.
I remember walking across the tarmac and praying that my transportation would be primed and air cooled. It was and the drive to the hotel was relatively quick. The road from the airport looked brand new. It was very empty; it was 2AM after all. On the way I saw some curious signs. Huge billboards spelled out "STAY BETWEEN THE LINES." What does that mean? I thought.
I found out the next day. STAY BETWEEN THE LINES was an admonishment for orderly traffic lanes.
Bangalore and much of India, was (and still is) infamous for its traffic. Gridlock was a frequent occurrence with buses blocking cars, cars overtaking motorbikes and bikes snaking through. Roads were packed with vehicles check to jowl, going in more or less the same direction.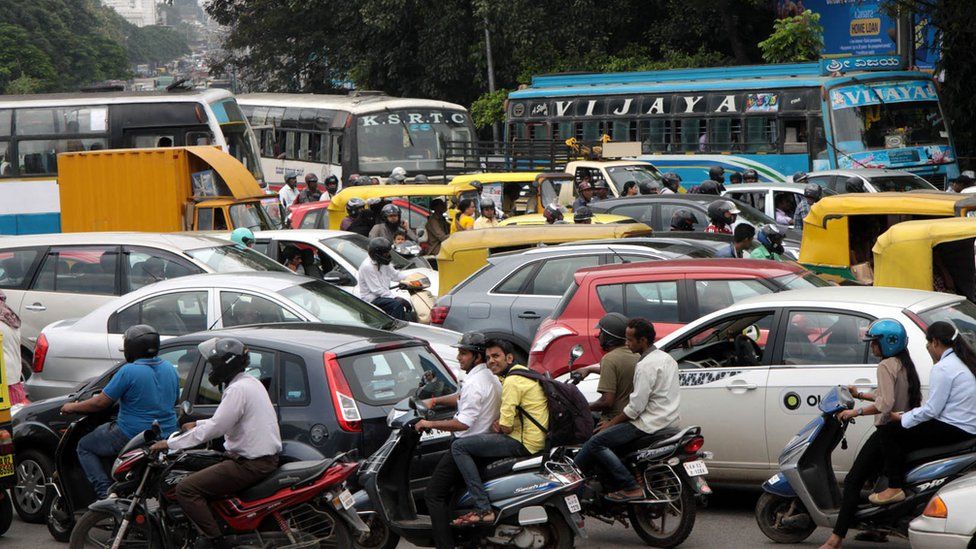 The occasional cow would be in the fray, sometimes sitting by the side while motorbikes and cars streamed around them. As the car inched through, beggars would tap on the car window. I remember looking out the car while they were peering back in.
The first time I saw this photo by Steve McCurry, it spoke to me of my time in India. In this video, Steve tells how he snapped the picture while on the way to his hotel in Bombay.
I visited Bangalore when it was a growing city, with infrastructure being built at an unprecedented rate. I remember speeding along a spanking new high-way listening to the driver and my colleague argue about how far the road went. I thought it was a joke until the asphalted road suddenly stopped and a field of rocks loomed ahead.
"Huh," said my colleague. "This is the municipal boundary and the budget must have run out."
With resigned patience the driver calmly turned the car around and looked for the next turn-off. At one point we had to make a right turn across a busy road. As he inched the car forward, turning but not quite into on-coming traffic, my colleague levered himself out the passenger side window, waving at the cars to stop and let us through. This seemed to work. Better than relying on just a turning signal and horn.
I haven't visited Bangalore since 2008. Curiosity had me checking if the traffic's improved since then. This article says not. Bangalore or Bengaluru is now #1 in the world's worst cities for traffic congestion. I guess those billboard signs didn't take.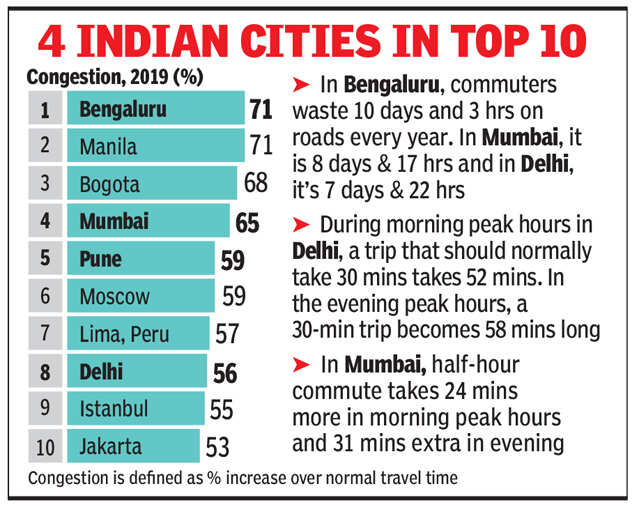 ---
This post comes to you compliments of Amanda's Friendly Friday Challenge: ON THE WAY.