In my last Friendly Friday post I referred to some of Canada's favorite foods. Not everyone was familiar with all the items so I thought "There's an idea!" for my next post. I also thought I'd give the new WordPress block editor a try. You might notice some fancier formatting and image linking. Do let me know if there are any glitches seen from your side.
The Uber Eats poll said that Canada's favorite delivery food included Butter Chicken, Miso soup, Chips and Shawrama. These are also some of my favorite foods, beginning with …
Butter Chicken
I signed up for an Indian Cooking course because I wanted to learn how to make Butter Chicken. Imagine my surprise when on the first day of class Chef told us that Butter Chicken wasn't really from India. He said it was created in England by Indian cooks, beloved by the British and repatriated by colonial Indians. Now it's is standard fare for every Indian restaurant in the former British Empire, including Canada.
In The New York Times, Sam Sifton describes Butter Chicken as
… the General Tso's of Indian food, a great, ever-evolving, cross-continental dish found in Delhi, London, New York, Perth and most points in between. In its purest form, it is yogurt-and-spice-marinated chicken dressed in a velvety red bath comprising butter, onions, ginger and tomatoes, scented with garam masala, cumin and turmeric, with a cinnamon tang.

In restaurants, where the chicken is often cooked in a tandoor oven before being added to the sauce, giving it a deep, caramelized flavor, the dish can be opulent. In most homes, where no such ovens exist, the chicken goes straight into the gravy to cook through. The result is still wildly luxurious.

"Indian Butter Chicken by way of Australia", New York Times

Making Butter chicken is surprisingly easy. It's better with an tandoor oven but if you don't have one of these $10,000 appliances, it's equally good on a stove top. If you can follow it, there's a link in the NYT article. If not, I can post a poorly described recipe from my cooking class 🙂
Shawarma
I used to work in an eclectic business area of downtown Toronto. It was on the border of Chinatown and the old garment district and was a mixed neighborhood of coffee shops, market stalls and the best ethnic food in the city. When I needed a break from the office grind, I'd sprint out to my favorite kebab place for a shawarma sandwich. There was often a line-up for lunch but the take-out service was quick. Behind the counter the owner would shave slices of juicy pork (or chicken) from a rotating cone of seasoned meat and stuff it into a pita sandwich jam-packed with vegetables and garlic sauce. The first bite was always gorgeous and then it was a race to finish before the last bit of sandwich disintegrated into a sodden mess. Good eats.
Shawarmas are made by stacking meat on to a central skewer and then cooking on a slow-turning vertical rotisserie or spit. Shawarmas have an Arabic heritage but variations exist all over: Turkish doner kebabs , Greek gyros and Mexican al pastor.
A German colleague once told me that the döner kebab was actually invented in Berlin in the early 1970s. It was created by a young Turkish immigrant who thought it made an ideal lunch for German workers on the go. According to this article, döner kebabs are popular throughout Europe and in Germany alone, they eat 600 tonnes of döner meat a day.
Miso Soup
I am going to guess that Miso soup was actually ordered as an add-on to Japanese favorites like sushi, teriyaki and tempura dinners. Although delicious, I can't imagine why anyone would order it alone.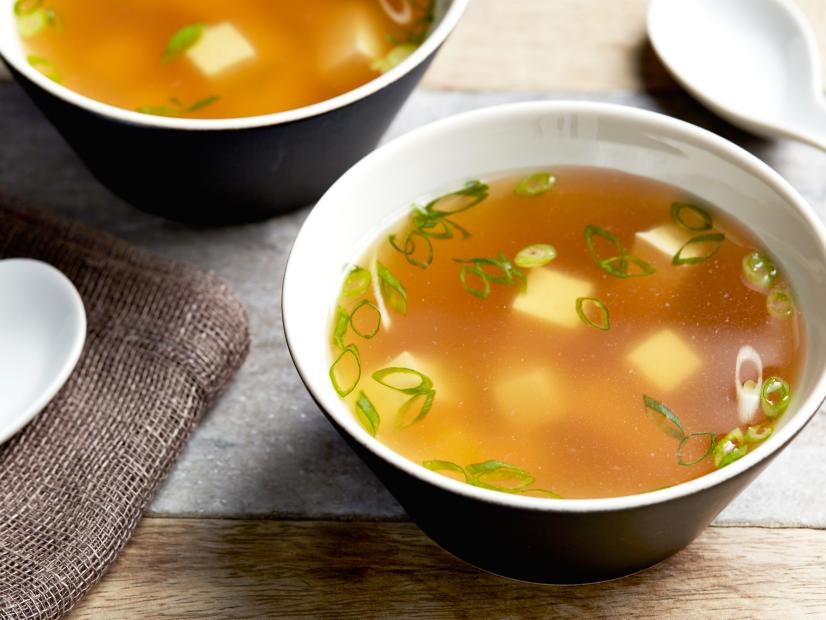 Miso soup is a flavorful light broth, made with dashi stock and miso paste. Miso is fermented bean paste and it gives the soup its distinctive, unami laden flavor. I've never made miso soup myself but if I did, I'd try this recipe on the Food Network.
Chips
In Canada we call them fries, frites, chips and poutine. I've heard tell that in the US, they're called fries and differentiated from chips (also known as crisps in the UK) which come in a packet. In Canada we don't seem to have a problem distinguishing them by context. Fries and frites are served in the context of burgers. Chips in the context of Fish & Chips and Poutine in the context of frigidly cold winter days.
Unlike fries, frites and chips, poutine is uniquely Canadian. It originated in Quebec, a French Canadian province on the east coast and has been appropriated by the rest of the country. It is a dish of thick cut fried potatoes covered with brown gravy and fresh cheese curds. Aficionados attest to the delicious combination of hot chips, savory gravy and squeaky cheese. But rather than me writing about it, have a look at this video which describes poutine and why it's the best.
So that's the list. A longer than usual post. Doubly longer for me, as I struggled with the new editor. Final analysis? It's not so bad. Lots of interesting new features. It can be confusing but mostly because it's unfamiliar. I might be a convert yet.
'Til next time – Sandy
Toronto, Canada. June 2020